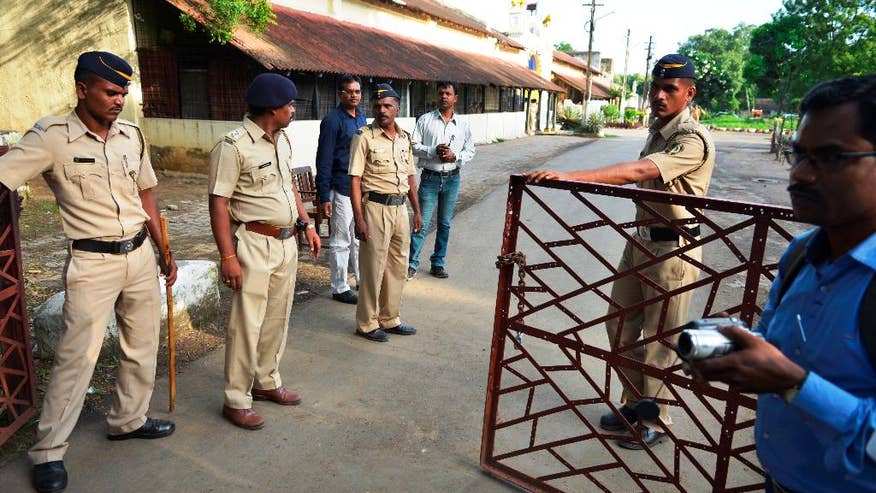 Policemen Guarding the entrance of the Prison where Mr. Memon is held.
An Indian accountant and the only person sentenced to death for his role in the 1993 Mumbai bombings that killed 257 people — the country's worst terrorist attack — was hanged Thursday on his birthday, after the president rejected a last-minute mercy plea amid a debate over the capital punishment.
Yakub Abdul Razak Memon, 53, was executed inside a prison in western India where he had been incarcerated since 1994.
His lawyers mounted a last-ditch effort to save him, including arguments at the Supreme Court just two hours before the sentence was carried out.
Prominent citizens, including retired Supreme Court judges, had urged President Pranab Mukerjee to commute Memon's sentence to life in prison. That appeal reflected both opposition to the death penalty as well as fresh claims by his lawyers that he freely surrendered to Indian authorities in Kathmandu, Nepal, and that his direct links to the bombings had not been sufficiently established.
Indian investigators, along with the main public prosecutor in the case, Ujjwal Nikam, say he was arrested in New Delhi.
"I have exhausted my remedies," lawyer Anand Grover told reporters after the Supreme Court heard Memon's final plea. "I only hope that Yakub Memon will have a dignified death."
Attorney General Mukul Rohtagi said: "There's no question of victory. I've just done my job."
Memon was convicted in 2007 of helping raise funds for the blasts that struck the Bombay Stock Exchange, Air India offices, a state transport office, three hotels, a gas station and a movie theater over two hours on March 12, 1993. The attacks were seen as revenge for the demolition of a medieval mosque in northern India by Hindu nationalists.
The demolition sparked religious riots in many parts of the country, leaving more than 800 people dead, most of them Muslims.
Yakub's older brother Ibrahim — also known as "Tiger" Memon — and Dawood Ibrahim, both leading gangsters in Mumbai in the 1990s, are the main suspects in the bombings and have fled the country. A total of 100 people have been convicted. Ten of them had also received the death penalty but it was commuted to life in prison.
One of India's lengthiest trials, which included 686 witness testimonies that filled 13,000 pages, opened on June 6, 1995, and ended in January 2003. The judgments began in late 2006.
As Mumbai woke up to the news of the hanging, scores of police gathered near the Memon family home and cordoned off the area. Police were also stationed at the various places in the city where the bombs had exploded.
Human rights groups, including Amnesty International, have decried the hanging